Mitsubishi Lancer Owners Manual
To lock or unlock from inside the vehicle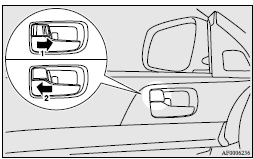 1- Lock
2- Unlock
Pull the inside door handle towards you to open the door.

Note
► The driver's door can be opened without using the lock knob by pulling on the inside door handle.
Except for vehicles equipped with the central door lock switch, all other doors are unlocked at the same time.
► In a vehicle that has a Dead Lock System, it is not possible to unlock the door by pushing the lock knob to the unlock side while the Dead Lock System is set. (Refer to "Dead Lock System".)










© 2022 www.mitsuguide.com. All Rights Reserved.