Mitsubishi Lancer Owners Manual
To remove
1. Wrap the tip of the bar with a cloth, insert it deeply into the notch provided in the wheel cover, and use it to lever up the cover a little.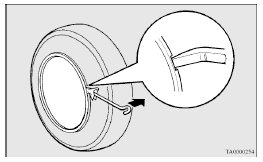 2. With the cover raised a little, pry it off completely using the jack bar. Insert the jack bar under the cover, and move it around the circumference, prying the cover away from the wheel little by little as you move the bar around.

Caution
► If you try to use your hands, they may get hurt by the edge of the wheel cover.

Note
► The wheel cover is made of plastic; take care when prying it off.
To install
1. Make sure the tabs (A) of the back of the wheel cover are not broken and correctly fitted on the rings (B). If in doubt, do not install the wheel cover and consult your MITSUBISHI MOTORS Authorized Service Point.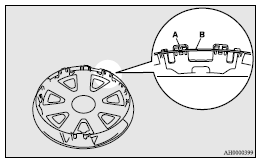 2. Align the air valve (C) of the tyre with the notch (D) in the wheel cover.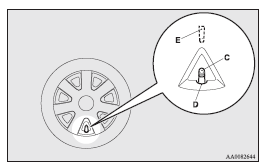 Note
► Full wheel covers have a symbol mark (E) provided on the reverse side to show the air valve location.
Before installing the wheel cover to the wheel, make sure that the opening with the symbol mark is correctly aligned with the air valve.
3. Push the bottom part (F) of the wheel cover into the wheel.
4. Gently push both sides (G) of the wheel cover and hold them in place with both knees.
5. Gently tap around the circumference of the wheel cover at the top (H), then push the wheel cover into place.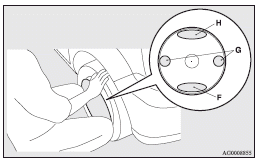 © 2022 www.mitsuguide.com. All Rights Reserved.