Mitsubishi Lancer Owners Manual
Types of connectable devices and supported file specifications
Device types
Devices of the following types can be connected.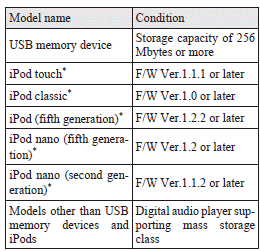 : "iPod touch," "iPod classic," "iPod" and "iPod nano" are registered trademarks of Apple Inc. in the United States and other countries.

Note
► Depending on the type of the USB memory device or other device connected, the connected device may not function properly or the available functions may be limited.
► Use the iPod whose firmware has been updated to the latest version.
► You can charge your iPod by connecting it to the USB input terminal when the ignition switch is in the "ON" or "ACC" position.
► Do not keep your USB memory device or iPod in your vehicle.
► It is recommended that you back up files in case of data damage.
► Do not connect to the USB input terminal any device (hard disk, card reader, memory reader, etc.) other than the connectable devices specified in the previous section.
The device and/or data may be damaged. If any of these devices was connected by mistake, remove it after turning the ignition switch to the "LOCK" position.
File specifications
You can play music files of the following specifications that are saved in a USB memory device or other device supporting mass storage class.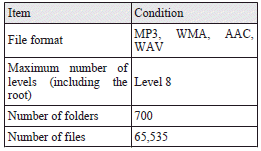 © 2022 www.mitsuguide.com. All Rights Reserved.