Mitsubishi Lancer Owners Manual
Roof carrier mounting brackets
When installing the roof carrier, use the brackets (A).
The brackets (A) are located under each cover (B).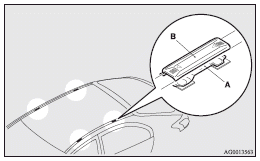 Attaching the roof carrier
Slide each cover (B) towards the front of the vehicle to remove it.
Refitting the covers
1. With each cover, put the tabs (C) on the cover in the holes (D) in the roof.
2. Slide the cover (B) towards the rear of the vehicle to install it.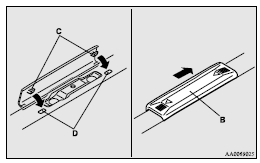 © 2023 www.mitsuguide.com. All Rights Reserved.