Mitsubishi Lancer Owners Manual
If an abnormal condition occurs in the system, the following display/indicator will turn on.

- ASC indicator

- ASC OFF display/ASC OFF indicator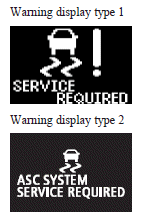 Note
► The combination of items shown on the display varies depending on the vehicle model.

Caution
► The system may be malfunctioning.
Park your vehicle in a safe place and stop the engine. Restart the engine and check whether the display/indicator goes out. If they go out, there is no abnormal condition.
If they do not go out or appear frequently, it is not necessary to stop the vehicle immediately, but we recommend you to have your vehicle inspected.










© 2022 www.mitsuguide.com. All Rights Reserved.