Mitsubishi Lancer Owners Manual
When there is a malfunction in the system, the warning display will appear on the information screen in the multi-information display.
In addition, the ACD control mode display in section (A) will go out at the same time.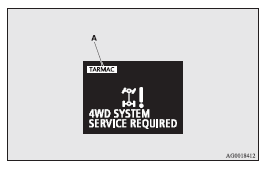 Caution
► The system may be malfunctioning.
Park your vehicle in a safe place and stop the engine.
Restart the engine and check whether the

warning display goes out.
If the

warning display goes out, there is no abnormal condition. If the
warning display does not go out or appears frequently, it is not necessary to stop the vehicle immediately, but we recommend you to have your vehicle inspected.

Note
► If the ambient temperature drops and the viscosity of the AWC control fluid increases, the warning may be displayed.
At this time, ACD control is temporarily suspended, but this will not affect normal driving.
After the vehicle is driven for a while, if the engine is restarted after the AWC control fluid warms up or the ambient temperature increases, the ACD control will start operating again if the warning display goes out.










© 2022 www.mitsuguide.com. All Rights Reserved.