Mitsubishi Lancer Owners Manual
Select the control mode from the following three types to suit the driving conditions.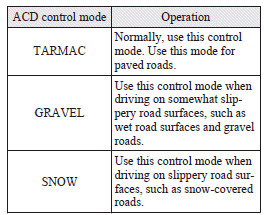 ACD control mode switch
When the ignition switch is set to the "ON" position, operate the AWC switch to change the control mode.
Each time the switch is pushed, the control mode changes in the order "TARMAC" → "GRAVEL" → "SNOW" → "TARMAC".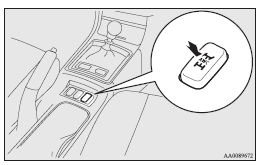 Note
► The control mode can be changed while the vehicle is moving.
► The selected control mode is stored in memory even if the engine is stopped.
However, if a battery terminal is disconnected, the control mode stored in memory will be erased and the control mode will be set to the "TARMAC" mode.
ACD control mode display

Example: "TARMAC" mode is selected.
The currently selected control mode is displayed on the multi-information display.
In addition, when the control mode is changed, the selected mode appears on the interrupt display screen of the information screen in the multi-information display.
The control mode display will appear on the information screen for a few seconds, and then the original screen will return.

Caution
► The ACD control mode display may flash under aggressive driving conditions.
At this time, ACD control is temporarily suspended in order to protect the ACD device, but this will not affect normal driving.
After the vehicle is driven for a while, if the ACD control mode display remains on, the ACD control will start operating again.










© 2022 www.mitsuguide.com. All Rights Reserved.