Mitsubishi Lancer Owners Manual
The outside rear-view mirrors can be operated when the ignition switch is in the "ON" or "ACC" position.

Warning
► Do not attempt to adjust the rear-view mirrors while driving. This can be dangerous.
Always adjust the mirrors before driving.
► Your vehicle is equipped with convex type mirrors. Please take into consideration, that objects you see in the mirror will look smaller and farther away compared to a normal flat mirror.
Do not use this mirror to estimate distance of following vehicles when changing lanes.
1. Place the lever (A) to the same side as the mirror whose adjustment is desired.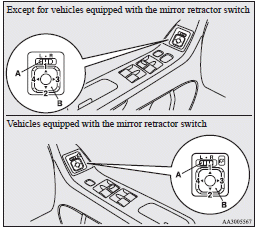 L- Left outside mirror adjustment
R- Right outside mirror adjustment
2. Press the switch (B) to the left, right, up or down to adjust the mirror position.
1- Up
2- Down
3- Right
4- Left
3. Return the lever (A) back to the middle position











© 2022 www.mitsuguide.com. All Rights Reserved.