Mitsubishi Lancer Owners Manual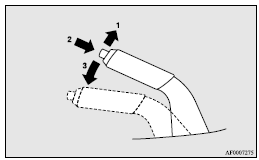 1- Firmly depress and hold the brake pedal, then pull the lever up slightly.
2- Push the button at the end of hand grip.
3- Lower the lever fully.

Caution
► Before driving, be sure that the parking brake is fully released and brake warning lamp is off.
If you drive without the parking brake fully released, the warning display will appear on the information screen in the multi- information display.
If a vehicle is driven without releasing the parking brake, the brake will be overheated, resulting in ineffective braking and possible brake failure.
Warning lamp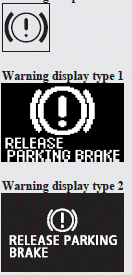 Caution
► If the brake warning lamp does not extinguish when the parking brake is fully released, the brake system may be abnormal.
Have your vehicle checked immediately.
For details, refer to "Brake warning lamp".










© 2022 www.mitsuguide.com. All Rights Reserved.