Mitsubishi Lancer Owners Manual
Daytime dipper button (meter illumination control)
Each time you press this button, there is a sound and the brightness of the instruments changes.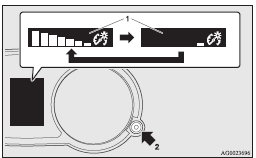 1- Brightness display
2- Rheostat illumination button

Note
► You can adjust to 8 different levels for when the tail lamps are illuminated and 8 for when they are not.
► If the vehicle is equipped with the automatic lamp control, when the lamp switch is in a position other than the "OFF" position, the meter illumination switches automatically to the adjusted brightness, depending on the brightness outside the vehicle.
► The brightness level of the instruments is stored when the ignition switch is turned off.
► If you press and hold the button for longer than about 1 second when the position lamps are illuminated, the brightness level changes to the maximum level. Pressing and holding the button for longer than about 1 second again returns the brightness level to the previous level.










© 2023 www.mitsuguide.com. All Rights Reserved.