Mitsubishi Lancer Owners Manual
Caution for installing the child restraint on vehicles with a front passenger airbag
The label shown here is attached on vehicles with a front passenger airbag.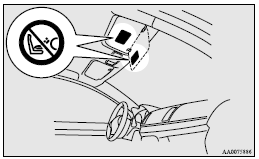 Warning
► Extreme Hazard!
Do not use a rearward facing child restraint on a seat protected by an airbag in front of it!
Use rearward facing child restraints in the rear seat or turn off the front passenger's airbag ON-OFF switch (if so equipped). (Refer to "To turn an airbag off".)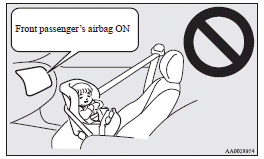 Warning
► A REARWARD FACING CHILD RESTRAINT must NOT be used in the front passenger seat if the front passenger's airbag has not been deactivated. The force of an inflating airbag could kill or cause serious injuries to the child. A rearward facing child restraint must only be used in the rear seat.
► A FORWARD FACING CHILD RESTRAINT should be used in the rear seat whenever possible; if used in the front seat, adjust the seat to the most rearward position.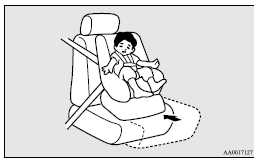 © 2022 www.mitsuguide.com. All Rights Reserved.